I popped back into SL about 5 weeks ago after being gone for years. Not sure what got me to log in – but I did. Bought a new skin that I had a demo of sitting in my inventory from a year ago, and enticed Jokay to pop in with me and grab a new look for herself too. While we were there, I saw an unusually tall girl walk by and I, being my shy, anti-social self, sent her message saying that she looked rather good for her height, as many avatars I have seen in the past just looked so wrong. We chatted a bit and have kept in contact ever since. Her name is Sera and she is a fashion model in SL and doing quite well.

While visiting her, a friend of hers, Mahyeri, stopped by and noticed how old and outdated my avatar looked, and offered to do a full makeover. I was totally up for a change and shopping. She worked her magic and for once, I can say I am very happy with the new me. I do still see vendor boards and envy some of the models there…but I am enjoying the new improved Azz. Also got me to get comfortable with Firestorm Viewer…I was a strictly Old School viewer user…Hippo was my tool, and sometimes Imprudence.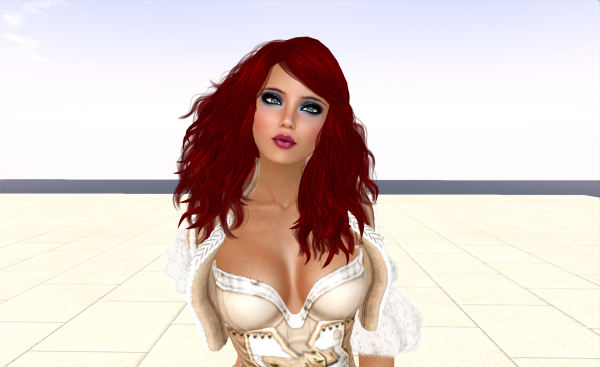 A week later, I received a message from someone who bought my Teacher's Helper HUD…a device used to read notecards if you are giving a pre-written speech or give a tour or class you give over and over. The texture wasn't rezzing, so I checked it out, and found a bug in the scripting (not having to do with the texture) so I fixed the device and sent her a new one. We kept talking about stuff, and I found out she was involved in the Gorean Sims. Gor was one of those unmentionable lifestyles people whispered about in my early SL years…so I never really gave it much thought. But this time, I considered learning a bit about it…why not?
She is a slave girl in SL (and RL), owned by a mistress whom teaches classes about law and the scribe caste of Gor society and is a magistrate of a city. Ok, teaching…I know about that from Jokay…I will take some classes and see how they do it. See what the role play is like. See if I have fun. The most troubling thing about the general RP part is I do not have a dominant personality in that I don't feel I should tell someone what to do and I also don't want to play the slave part as I want to control what I do. So I am taking classes and learning the history and meeting people…and I am also doing what I love most…BUILDING and creating.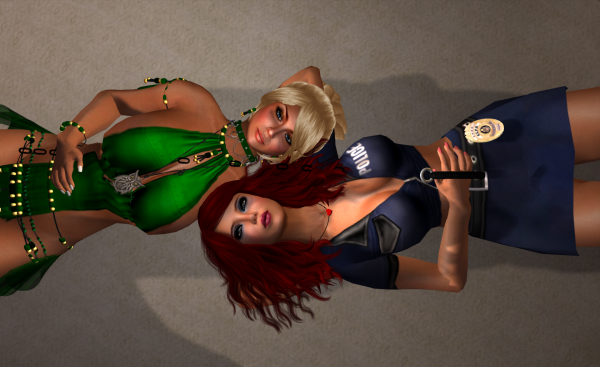 Krista, the slave girl (kajira) I mentioned above and who has become an awesome friend, was just getting done having a Sim built for teaching classes, holding court, and other activities. I arrived in time to help decorate. Krista is newish to SL in that she doesn't know how to build and manipulate prims…so it was easier to let her rez items and me move them around and place them. The sim is on a homestead server, thus limited to 3750 prims…so the builder that she hired had to be reasonable in his choices. But it was not how I would have done it…I don't like to use prefab transparent window-walls, I hate textures that stand out and glow, and look fake. I am very critical of everything I build, probably way more than I need to be to satisfy 80% of SL.
I just couldn't sit by and let it exist the way it was…so I volunteered to help give it a facelift one building at a time. I flew around SL looking at newer building techniques, new textures, all the new mesh. I bought new tools, textures, and sculpt maps. And then I started experimenting. I found wood textures I liked…a nice stucco, I cool tool to make a sculpt from multiple scuplties, some book textures, and shelf sculpts.

I made the first building…a library/courthouse, based on the same layout the first builder had used and it turned out fantasic. It was a bit more prim heavy, but not much. It had real 3D sculpt windows with glass instead of a window alpha on a wall texture…and it didn't look all glowie. Above and below are before and after type pictures. Made new furniture and shelves. The library contains well over 500 notecards on everything Gorean. Each shelf row is a different subject. I still need to be a good little librarian and organize it better.

Based on the library build, I then replaced the Tavern and Tea Room/Inn buildings. Replaced the landing point boat with a dock…then remade the circular classroom into a square, open, outdoor learning spot. Added a gallery building for displaying artwork, remade the arena, and then finally replaced the central park-like gazebo area. Deleted many of the horrible glowing plants and decorated with some good looking ferns and trees and am now done with the main face-lift part. The living quarters are still the old build but they aren't important at the moment…or used.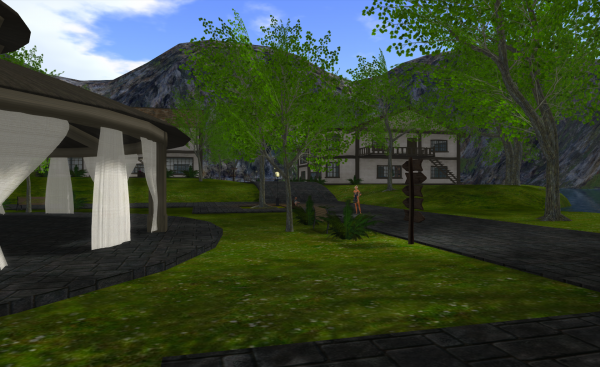 Paths need to be adjusted so they all match, and some of the furniture and landscape plants still don't quite look right, but I think it really has turned out super well. At the same time, Jokay has gotten the facelift bug and we have redone the Jokaydia landing point in quite a drastic and awesome way. From boring flat grass and brick to a breath-taking foresty-nature setting like in the picture below of Jokay. You should drop in and visit both of these builds – Search for Jokaydia or Gorean Campus in world!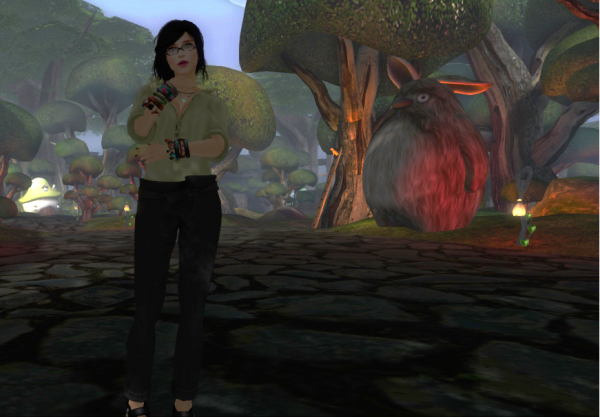 Tags: Azzura, Building, Gorean, Jokaydia, Second Life